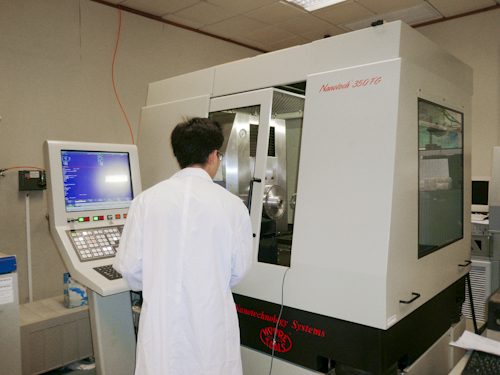 Moore Nanotech 350FG
(4-axis Ultra-precision Machine)
The Moore Nanotech 350FG is an ultra-precision freeform machining system used to generate symmetric and freeform optical surfaces as well as other high precision components. The machine is capable of manufacturing components in a variety of materials such as Aluminum, Electroless Nickel, Brass, Copper, Germanium, ZnS, ZnSe, and Silicon using single point diamond tooling.
The Nanotech 350FG standard configuration has three linear axes and a 10,000rpm air bearing work spindle. The Nanotech 350FG machine installed in the Advanced Optics Manufacturing Centre also possesses a rotary C-axis which can be used to perform slow-slide-servo machining of cylinders, freeform polynomials, toroidal surfaces, Micro Lens Arrays (MLA) and other freeform surfaces. The machine is also equipped with a Fast Tool Servo which can be used for machining micro lens arrays with maximum depth of 6mm.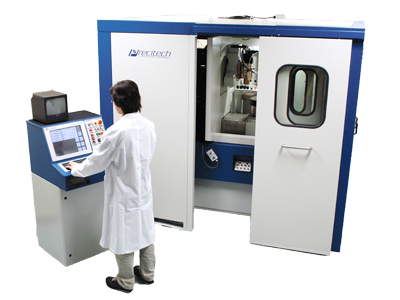 Freeform 750G
(5-axis Ultra-precision Machine)
A freeform 705G machine allows for three-dimensional non-axisymmetric freeform milling and grinding, and optional 2-axis diamond turning.
Freeform optical elements and optical microstructures such as V-groove and F-theta lenses can be directly milled with submicrometre accuracy of form and nanometre finishing of surface roughness.
In addition, there is an optional heavy duty grinding system for grinding of lens moulds in non-diamond machinable materials such as steels and ceramics. The accuracy of form is in the order of half a micrometer or less.
Nanoform 200
(2-axis Ultra-precision Machine with Fast Tool Servo)
Nanoform 200 is a compact, two-axis linear motor, ultra-precision contouring machine that can be configured for diamond turning and grinding of various optical surfaces.
Nanoform 200 can also be arranged to operate with the machine, Fast Tool Servo, in order to manufacture various freeform products such as microlens arrays, pyramid and toriodal lenses.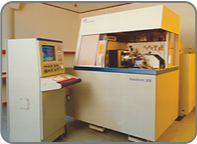 Nanoform 300
(2-axis Ultra-precision Machine)
Nanoform 300 is a two-axis, CNC/interferometer controlled ultra-precision machine . The machine is normally configured to perform single-point diamond turning. Optical surfaces ( i.e. , both spheres and aspheres) as large as 300mm can be directly machined with submicrometre accuracy of form and nanometre finishing of surface roughness.
Nanoform 300 is also equipped with a grinding attachment. When fitted with the attachment, the machine serves as an ultra-precision grinder. Brittle ceramics, hardened steel and glass can be ground to an accuracy of form better than half a micrometre.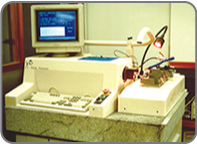 Optoform 30
(2-axis Ultra-precision Machine)
An Optoform 30, a two-axis CNC ultra-precision lathe is also available in the Centre. Optoform 30 allows the direct machining of contact lenses and smaller non-ferrous parts.
Both Nanoform 300 and Optoform 30 are equipped with Tool Path Generation (TPG) software to facilitate the generation of optical surfaces . The software allows the tool path to be directly programmed based on mathematic representing equation of the optical surface to be generated. This enormously simplifies the production of complex optical shapes, particularly aspherics.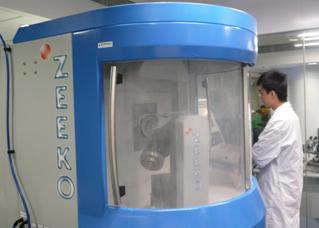 Zeeko IRP-200
(7-axis Polishing Machine)
Zeeko IRP 200 is a 7-axis polishing machine including 3 linear axes and 4 rotational axes.
The machine can be used for polishing optical quality glass and crystal, metals, semiconductor materials, ceramics, etc. Optical surfaces can be directly machined with sub-micrometer accuracy of form and nanometer finishing of surface roughness. It could perform fast polishing and form correction of aspheric optics and engineering surfaces to optical accuracy. Its unique capacity is available for small optics and up to 200mm diameter. The machine is also to be used by the centre to manufacture Superfinished Orthopaedic Implants for Bio-medical Applications.